Top 50 Pubs in Melbourne: 5-1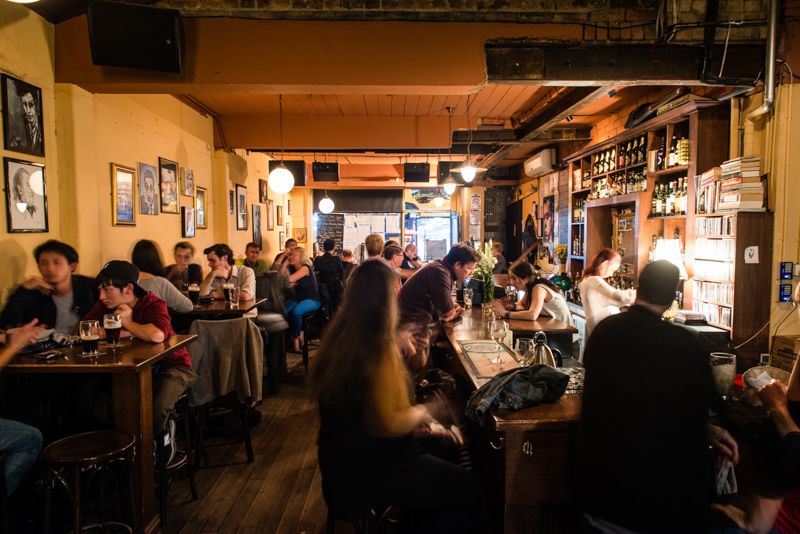 Number 5: Edinburgh Castle (Brunswick)
It was ranked 45 in 2016, 12 last year, and it still continues to rise! A whole new breed of people have been moving to the Coburg/Brunswick border for the last few years, and pubs such as the Edinburgh Castle have slotted in nicely in becoming their local. Has a bit of a student/artist vibe which we like and their unwavering support of food/drink specials as well as showcasing local bands has always endeared themselves to us. Being able to play table tennis in the beer garden is a real bonus!
Beers: Nice selection of craft beers. Announces tap changes on facebook.
Food: Pub Grub - Simple and Hearty. Great specials!
Beer Garden: Like your grandma's backyard from Preston. Underrated.
Bands: Often has them in the suitably intimate front bar.
Specials: Yep! Get around it!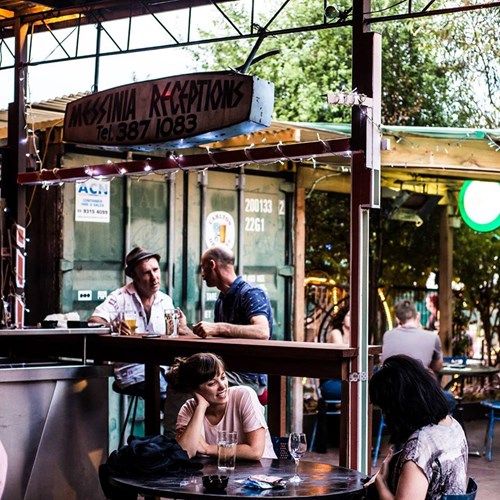 Number 4: The Napier Hotel (Fitzroy)
One of our key criteria in judging pubs is showcasing live music and having great specials, but the Napier don't do these and still got number 4. How?
By now you might realise that we are Fitzroy Football Club Supporters (no we are not hipsters, we've barracked for them since birth). But didn't they go belly up back in the 90s, I hear you ask? They might no longer exist on a national level (though they have many teams playing in amateur leagues for both men and women) but they live on in pubs such as the Napier. Not a week goes by, that we don't pull up a stool at the front bar, have a cosy pint and listen to the locals talk about the good old days. Stories like how Fitzroy's FC Best & Fairest in 1996 was held at the adjacent town hall, but when the winner, Martin Pyke, was announced no one could find him...until someone checked the pub. The food here has also entered folklore with people travelling as far as interstate just to sample their behemoth Bogan Burger. You could share it between two people, so in a way it's a special. We enjoy the parma with chorizo kangaroo on top as well and in fact this in our top five parmas in town. An intimate dining area, put together with a beer hall type vibe in the open fire place side room, simply makes this a great local pub.
Beer: Has a variety of craft beers from around Australia.
Food: Incredibly well portioned pub grub.
Beer garden: Has a neat one on the side which has a retractable cover when it gets wet. We like sitting on the tables on the footpath though, looking towards the majestic Fitzroy Town Hall, one of the best buildings in Melbourne.
First Date Place: 10/10 - If they love the place, you should love them.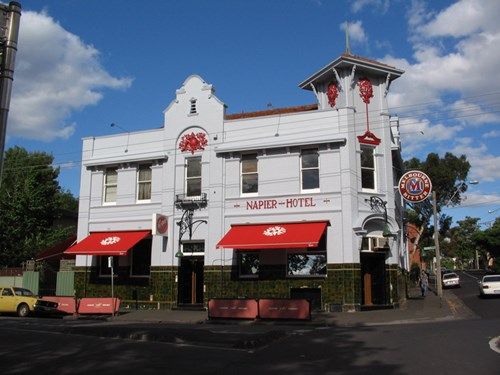 Number 3 - Great Northern Hotel Carlton North
Is the Great Northern the quintessential local? Picture it; a beer list with 22 taps including some hard to find brews via the Manager's contacts (they even grow their own hops in the beer garden), a front bar ideal for footy and jargon, a large bistro area where hearty pub grub (their Sunday Roasts have taken the menu to another level) can be woofed down, and a beer garden that ranks in our top 5 in Melbourne. It is also one of the best places to watch sport in the city, cornering the market when it comes to AFL, NFL, UFC, NBA and NRL games.
Specials: Mondays are Parmas, Tuesdays are Steaks and a Burger special for Thursdays. If only they had beer specials!
Beers: Nice selection of craft beers including a rare hand pump.
Food: The Sunday Roasts are great but during the week we go the steak sandwich.
Beer Garden: One of the best in town. The street tables are also chilled.
Number 2: The Fox Hotel (Collingwood)
Our offices used to be 13 seconds from the Fox's front door from the day it opened. This incredibly well-managed pub (thanks to Bridie, Tracy & Clodagh - the best in the business) was our second lounge room, our second kitchen, our second …toilet. It is unique in that it's so flexible. A beer on one's own at the bar, a party on the roof with dozens, or a candle lit dinner in the dining room with romantic intentions - all seem perfectly suited to it. Add an excellent beer list created with passion, great hearty food that's vego friendly and far better than the average pub (go the Roast special on Sundays), and a beer garden that's in our top 5 rooftops in Melbourne and you can't go wrong. I always seem to play pool really well here also, and I'm crap at pool.
Beer: Hugely impressive beer list. The taps usually promote Victorian craft beer.
Beer garden: A small outside area but a killer rooftop one that looks over the chimneys of urban Collingwood.
Food: We rate the parma and burger highly, though there are many other fancier options that are just as nice. Lot's of vegan options.
Specials: We come for the 2 course Sunday lunch at least once a month. Incredible value. The $7 pints on weeknights is also pretty special.
Music: Has a band or two in the front room during the week.
Number 1: Drunken Poet (West Melbourne)
Ten years ago, owner Siobhan Dooley bought this space because it was "the only thing place I could afford". Since then she has tirelessly devoted her days to making one of the best bars in the country. Having lived In Ireland I can say that this is the most authentic Irish drinking hole I have been to in Australia. In fact, the Irish Times said it was one of the best Irish pubs in the world. It's small, cramped, but filled with character and characters. It has always showcased craft beers, it has always showcased local musicians (I'm talking about nearly every night!), especially female performers, and it has one of the best publicans in the business. Do they do food? Yes they do jaffles (toasties) but the Vic Market is 20 metres away also. If you've never been, then go. If you have, then revisit. Simple. Introducing the Number ONE pub in Melbourne! Head there today for happy hour!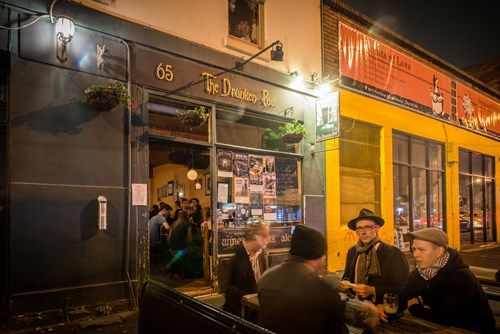 Table of Contents

Top 50 Pubs in Melbourne (2018)